The private luxury residence La Dimora di Sicilia is located in a unique palazzo constructed in the 18th C by The Dukes Trigona of Misterbianco, along the main street Via Etnea, near Piazza della Cattedrale in Catania. The main entrance is on a street where you may browse artisan boutiques and wine bars in one of the most charming areas of the city. 
Dimora di Sicilia is designed to accommodate private groups of families and friends traveling together since there are many shared spaces, and is composed of a dozen rooms of different sizes and purposes. Each room has different colors and design, with original frescos.  Dimora di Sicilia includes three Luxury Suites for a combined total stay for up to thirteen guests. Several formal rooms of the Palazzo have been painted by a group of artists who painted the frescos in Teatro Massimo Bellini. As to the floors,  hand-made, hand-painted 19th C Sicilian terracotta tiles have been lovingly restored by the owner, and fill Dimora di Sicilia with Mediterranean colors, while other rooms have hard-wood floors. 
The art, architecture, history and interior design of Dimora di Sicilia offer you a unique experience within itself. Your home for the week is a gorgeous, decorative historical residence, which is upscale and formal yet intimate, where the owner, Catania-born architect Daria Laurentini's vision is to preserve history and elegance, giving rebirth to the residence with fresh color, art and modern comforts. 
Below is a map of Dimora di Sicilia.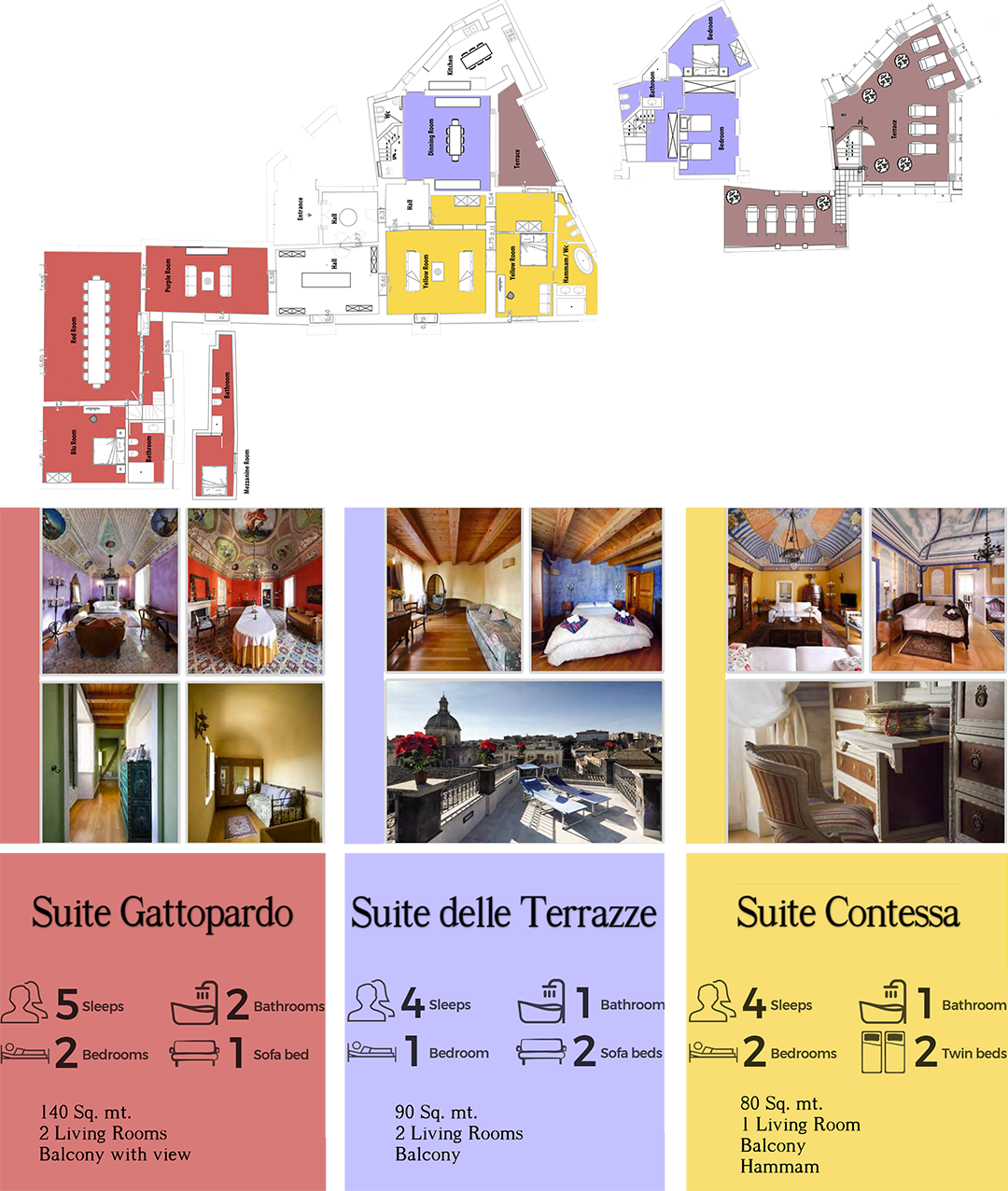 Capacity (max) of Guests 13

Suites 3

Bedrooms 5

Double Beds 4

Flexible Beds 3

Total Bathrooms 5

En-suite Bathrooms 4

Daily Cleanings *

Private Cook **

Gym

Turkish Bath

Air Conditioning ***

Heat

Chimney

Washing Machine

Dishwasher

Microwave Oven
Satellite TV

TV

DVD player

Stereo

Cellar

Satellite Internet Wi-Fi

Landline Phone

Barbeque Grill

Yoga Mats

Private Parking Lot

Personal Shopper ****

Laundry Service

Massage Therapist ****

Personal Trainer ****

Beautician- Hairdresser ****

Cooking Lessons ****

Optional Local Travel Assistant ****
* 3 hours in the morning, Monday through Saturday, with an alternate day change of bed linen and towels.
** The Sicilian residence lends itself perfectly to fully satisfied guests with daily newspapers and weekly meal packages available. Fish, meat and vegetarian menus are available. Prices are based on menu choosen.
*** In all rooms
**** On request
Turkish bath

Terrace with view of Mount Etna and Ocean
Historical House

Antique Furnishings