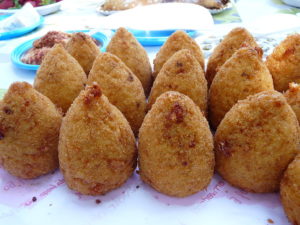 Arancini (or arancine if you are in Palermo) are one of the many Sicilian delicacy: they are rice balls filled with ragu generally, but nowadays creating new kinds of arancini has become an art, and you can find them also filled with fish! Their origin, like many others Italian recipes, is due to the need to use up leftovers, in this case risotto: today, it is so appreciated that arancini are not a re-use anymore.
Here in Catania we make them coned-shaped while elsewhere in Sicily people make them like a proper ball: it's an old quarrel, coned or spherical? Arancino or arancina? To decide is very difficult, but to speak our mind…Let's just say that our pyramidal arancini are easier to eat!
Here is our recipe, really strict to tradition: try to cook them, and let us know once you have tasted our golden cones!
Ingredients (for 5-6 people)
For the ragu
500 gr risotto rice: you need to use a kind of rice that develop a lot of starch
100 g minced beef or pork
1,2 l water
200 ml of tomato paste
30 g butter (unsalted)
salt and pepper
1 saffron powder sachet
25 g butter (unsalted)
100 g caciocavallo cheese chopped into chunks
1/2 onion
Flour
Extra virgin olive oil
Breadcrumb
Half a glass red wine
Extra virgin olive oil
80 gr peas
Vegetable oil (for frying)
Step 1: cooking the rice
First things first: boiling the rice. Choose a large pot, fill it with 1,2 l of water: once it boils, add the salt and then the rice. After 15 min add the saffron and when the rice is done (some minutes) turn off the heat then add the butter and the cheese, stir well. Ultimately, move the rice to a large tray, where it will cool down for a couple of hours.
Step 2: preparing the ragu
In a large pan put the olive oil and the butter. Brown the onions and add the minced beef (or pork). Pour the wine and reduce. Season with salt and pepper and then add the tomato paste with a few water. Cook the peas aside and add them to the cold meat ragu.
Step 3: making arancini balls

Now, this is the tricky part: you need to be a little handy, but don't worry, it just need a little practise.
Place a tablespoon of rice into the palm of your hand, flatten into a disk. Add a tablespoon of ragu then a chunk of caciocavallo cheese. Place another tablespoon of rice over the filling and form rice around it to encase it completely. To make them in perfect conical shape try this method: join your hands like in prayer to shape the arancino and with the palm form the base of the pyramid.
After you have finished in forming arancini, you have to fry them. In a bowl, but some flour and water to form a batter: plunge the arancini in it, then in bread crumbs until evenly coated. Once prepared, fry the arancini in abundant hot vegetable oil, until golden.
And…ehi! Our arancino needs to be eaten upside down! This way, you will taste the filling not just at the end!
https://www.dimoradisicilia.it/wp-content/uploads/2018/07/180713-arancini-1.jpg
768
1024
Nene
https://www.dimoradisicilia.it/wp-content/uploads/2016/10/fake-300x80.png
Nene
2018-07-04 10:18:42
2022-06-21 12:20:37
Sicilian recipes | How to make Arancini